Ideal for use when travelling, it has 3 ports, delivering 65W of charge to up to 3 devices at the same time.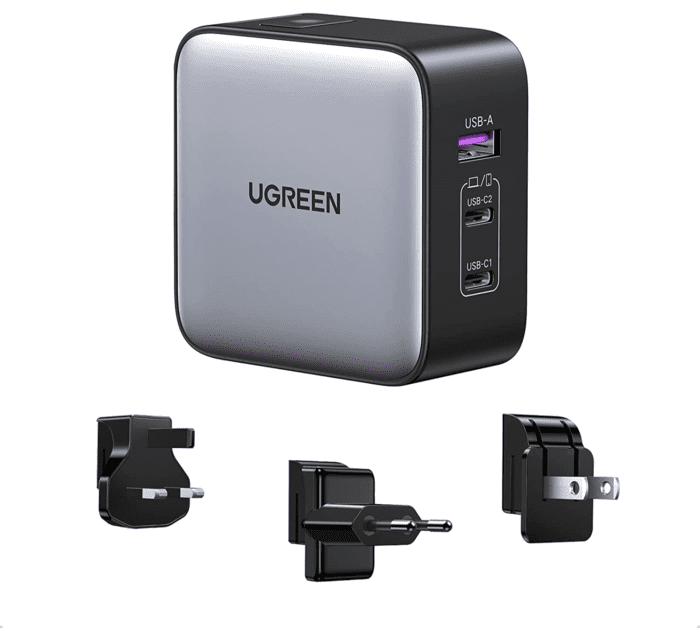 Features:
• Input: 100-240V~50/60Hz 1.8A Max
• USB-C1/C2: 5V/3A, 9V/3A, 12V/3A, 15V/3A, 20V/3.25A 65W Max PPS:3.3-21V/3A
• USB-A: 5V/3A, 9V/2A, 12V/1.5A, 4.5V/5A, 5V/4.5A; 22.5W Max
• Fast Charging Protocol: PD 3.0/2.0; QC 4.0+/4.0/3.0/2.0; 5V/1A; 5V/2.4A; AFC; SCP; PPS
• Protection: Short Circuit Protection, Over Voltage Protection, Overheat Protection, Over Current Protection, Power Dispenser System, Overcharge Protection
• Plug included: US plug, EU plug, UK plug
• Product dimensions: 2.56 x 2.56 x 1.28 inches
• Item weight: 12 ounces.
Ugreen, the award-winning manufacturer of quality and affordable electronic accessories and consumer technology products has today announced the launch of its new 65W Nexode GaN USB-C 3 port wall charger. Perfect for use anywhere in the world, it comes with US, UK and EU plugs included which are easily switchable. With a broad compatibility, it can easily charge up to 3 devices at the same time at high speeds.
Featuring two USB-C ports and 1 USB-A port, the Ugreen wall charger is an efficient and useful product. Able to give up to 65W of charge on 3 devices at the same time, it dramatically reduces the time spent waiting for devices to charge and increases the convenience of the experience. Ideal for use when travelling, in the office or even just at home, it means that users are able to have their laptop, phone and earphones recharging at the same time, for example. Not only easier, the Nexode 65W is also powered by GaN chips that provide high-speed power that can charge a 13" MacBook Pro to 100% in less than 2 hours meaning people never have to be out of battery for long.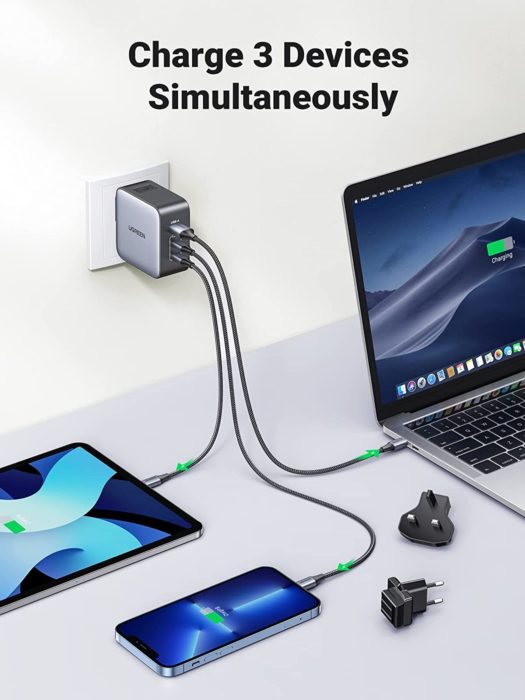 The perfect companion on holidays or business trips, the lightweight charger comes with a US, UK and EU plug to ensure that it can be used worldwide and also has a very broad compatibility. Able to be used with MacBooks Pro/Air, Dell XPS, iPhones, Galaxy S Series, iPad Pro, Pixel Series, and more, there will always be a quick charging option – even for an Apple Watch or AirPods.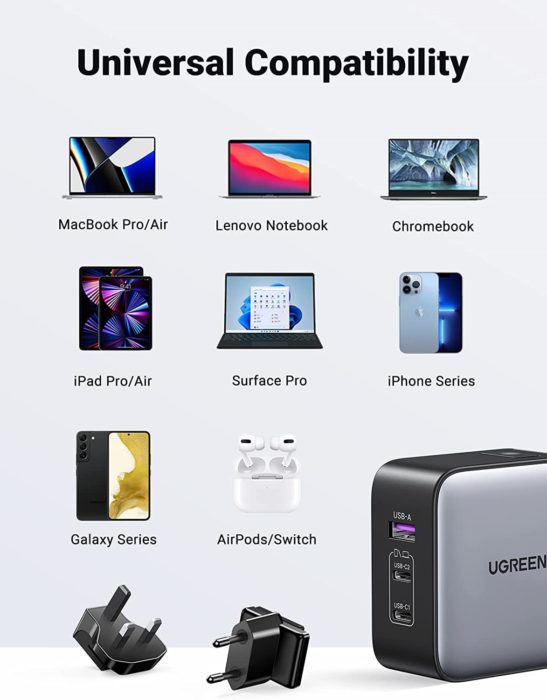 Always aiming to both keep users connected but safe, the Ugreen wall charger has enhanced safety features with GaN to keep devices protected whilst being charged. These include an over-current protection, short-circuit protection, over-temperature protection and over-voltage protection meaning that it can be used without any concerns. Not only that, Ugreen offer a two-year warranty on the product for complete peace of mind.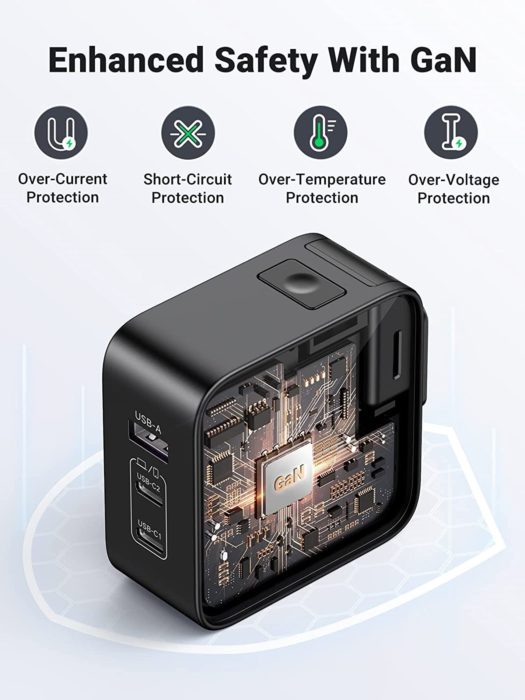 The Ugreen 65W Nexode GaN Charger is available for £49.99/$55.99 on Amazon UK, Amazon US and the Ugreen website.